We deliver vertically relevant advertisers and brand consumers through a holistic, integrated approach of calls, user lead inquiries and data solutions.
Working with real time technology, Visiqua delivers Lead Generation, CPA Campaigns, CPA-brand awareness campaigns, CRM development and owned & operated website traffic.
Your Company's Reach
With Visiqua
Visiqua connects the dots between brands and consumers through a targeted, focused approach to performance media.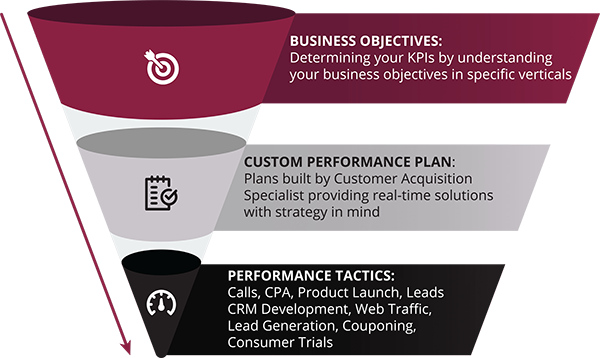 What We Do
We drive & deliver high quality, aggregated performance marketing campaigns.
Why Visiqua?
Lead Generation & Customer Acquisition Experts
Visiqua specializes in Pay Per Call, Leads, Clicks & Online Sales
Our competitors focus exclusively on only one of two approaches. Visiqua provides an integrated approach to convert users into consumers – leveraging calls, traffic, clicks and data. Each program is tailor specifically to your target outcome.
We look at ourselves, not as a traditional performance marketing company, but as an extension to your marketing efforts. By partnering with your strategy and working off your goals, we build the correct performance marketing program that delivers the business outcome you need.
Over the years, Visiqua has developed and tested tools and technologies. With this knowledge – Visiqua created our own tech-stack and layered it with a proprietary algorithm. Thus, serving our advertisers and consumers with compliant, hyper-targeted tools and strategies. Our approach equates to the success of hundreds of unique performance campaigns for dozens of Fortune 500 companies. Whether you are an advertiser or publisher, you too can leverage Visiqua's specialized technologies with continuous campaign support. Using our holistic lead generation and real time support, your business can drive the best ROI outcome for you.